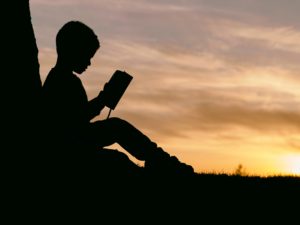 If you are a parent looking for the right homeschool bible curriculum for your children, then making the right choice is very important to you. You know that there is nothing more important for your child than having a strong foundation in God's word.
Homeschool Bible Curriculums: So where do you start?
You could open up the bible and start at Genesis 1:1 I suppose, but let's face it, your kids are not going to make it all the way through Leviticus with you. 66 books spread over thousands of years of history with many different authors and complicated stories set in other cultures is not an easy task for anyone to teach to children.
This is where Bible Blast comes in to help.
We are a homeschool bible curriculum designed to help you as a parent help make the process less overwhelming and teach your children in a way that they understand and enjoy. You believe that there is nothing more important for your child than teaching them to hide God's word in their heart. You want a homeschool bible curriculum that helps your child not just know God's word but love God's word.
Bible Blast is the homeschool bible curriculum designed to help your child understand, know and love God's word and have a blast in the process.
Bible Blast exists to not just help your kids know scripture but to help your child know Jesus.
We want to partner you with as a parent in the high calling of not just being a parent but being a disciple-maker of young followers of Jesus.
We are here to be a guide for you in the noble calling of raising kids that know Jesus and love scripture. It's our passion to help you and your child love learning about God's word.
We make learning God's word fun and engaging for you and your child.
Bible Blast will help them understand important concepts of scripture and begin to memorize God's word and hide it in their hearts.
We are not just teachers of scripture, we are believers of scripture and we believe that if you train up a child in the way he should go, when they are old they will not depart from it. We also believe that learning God's word should never be boring so we make our lessons fun and interactive.
We know you have your hands full so we designed Bible Blast to be easy to use and implement for you as a parent and home educator as well so that you can teach with confidence. You'll love our clear lesson plans designed to make things easy for you to teach your child biblical truths.
The most rewarding part will be seeing your children hide God's word in their heart and become lovers of truth and lovers of Jesus.
Bible Blast is a tried and proven kids homeschool Bible curriculum designed to help you make disciples of Jesus right at home with the people you love the most.