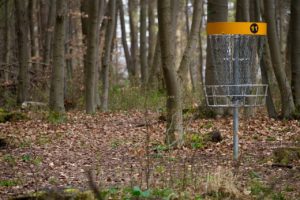 Over the last few years throughout the world, disc golf has become more and more popular. Whether you play the game for sport or just for leisurely activity, a good disc golf course will serve all levels of players.
Tulsa has embraced the up-and-coming phenomenon that is disc golf; more and more courses are beginning to pop up around the city and old courses are being revitalized. Without further ado, here are some of the best disc golf courses in the Tulsa area.
Hunter Park Disc Golf Course
This course is located in South Tulsa and tends to be a favorite among disc golfers. It offers a heavily wooded course with a variation of obstructions, from creeks and trees to hilly terrain. It also offers alternate tee box placements for those looking for new challenges.
Pros:
Hunter Park is well-maintained and well-lit

It has good variation and challenges
Cons:
Watch out for poison ivy in the wooded areas!

You can lose your disc in the trees or in the water obstructions
Haikey Creek Disc Golf Course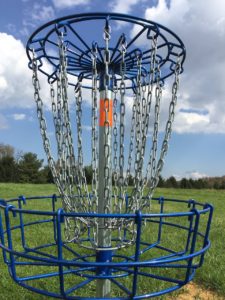 Haikey Creek Park is located in the Broken Arrow suburb of Tulsa, which is about 15 minutes from the city. This disc golf course plays through beautiful open fields and wooded areas, offering a wide variety of distances and difficulty.
During the spring and summer, this course will be spotted with the disc golf fanatics. It's a great time to get some buddies together to see who can play the best game.
Pros:
The park offers beautiful scenery

The course is spread over diverse terrain, offering open fields to wooded areas

The holes offer diverse distances, ranging from 250 ft – 550 ft

Well-maintained course
Cons:
The walking trail goes around the disc golf course so you have to watch for pedestrians

The course can sometimes play to close to the road
River Parks Disc Golf Course
River Parks Disc Golf Course is located in the park that inhabits the banks of the Arkansas River. Not only does the course offer a laid-back round of disc golf, but it also offers beautiful views of the river and Downtown Tulsa.
Pros:
This course is great for beginners or people who just want to have fun

The park is surrounded by nature.

This area stays cooler in the summer due to the river being close by

The course tends to dry faster after rain
Cons:
The park can get very crowded

The course plays close to pedestrian trails, roads, and parking lots, so be careful not to hit anything.

The disc golf course doesn't offer many variations; all holes are par 3
Moose Run Disc Golf Course at Chandler Park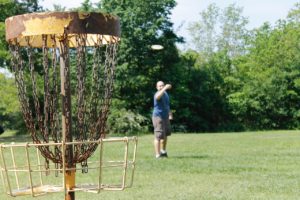 Chandler Park is one of the coolest parks of Tulsa, ultimately known for its unique rock foundations. However, the park also boasts a nice disc golf course.
Chandler Park rests on the top of a hill overlooking the Arkansas River and Downtown Tulsa. The disc golf course is lightly wooded, offering a challenge for the more advanced player.
Pros:
Chandler Park is well-maintained and you can always find people enjoying the attractions

Easy course for beginners to enjoy

Many parking options throughout the park
Cons:
The course may seem too easy for more advanced players

Disc golf equipment is seasoned and old
Blackhawk Disc Golf Course
Blackhawk Disc Golf Course is another course in Tulsa that ranks high on the disc golfer's list. Located near the Tulsa Zoo, Blackhawk is considered a very challenging course with densely wooded areas and long distances to cover to reach your hole.
Pros:
Offers a very challenging course for the advanced player to enjoy

Has a reputation of being a safe park
Cons:
Watch out for ticks and mosquitoes during the summer

Areas can become swampy after a rain.
Nienhuis Park Disc Golf Course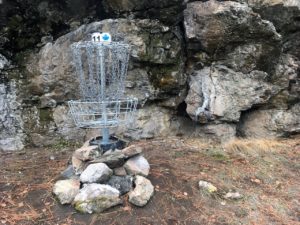 Nienhuis Park is located in North Broken Arrow. It's a well-maintained open park that offers many activities for the family, including a small disc golf course. The 9 hole course makes this a great intro to disc golf for kids or people interested in trying out the game.
Pros:
It's an easy course suited for beginners

The course has 9 holes to make for a quick game
Cons:
Nearby pond makes it easy to lose discs

Becomes muddy when it rains

Not much variation in the course
Dovillio Disc Golf Course
This course is in the heart of Tulsa, on the corner of E 11th and Mingo. This course rarely sees a crowd, and it offers some great holes for disc golf. This course offers a little more skill and stamina due to obstructions and farther distances to throw.
Pros:
The course is deemed challenging with wooded playing areas and long holes.

The disc golf course is never crowded
Cons:
The park isn't as well-maintained as others.

There has been some crime reported in this area
Frequently Asked Questions
What Do I Need to Play Disc Golf?
Disc golf is a great game not only because it's fun, but also because it requires very little equipment. The only things you'll need are discs or frisbees. You'll need a driver for long-distance throws. These discs are more streamlined in order to travel farther. You'll also need a putter, which is used for shorter distances in order to make baskets.
What Should I Wear to Play Disc Golf?
The best type of clothing to wear playing disc golf is any clothes that will allow you to have your full range of motion. This is important as heavy or baggy clothes may limit your ability to make a good throw.
Want to know more about Tulsa's sports? Click here!