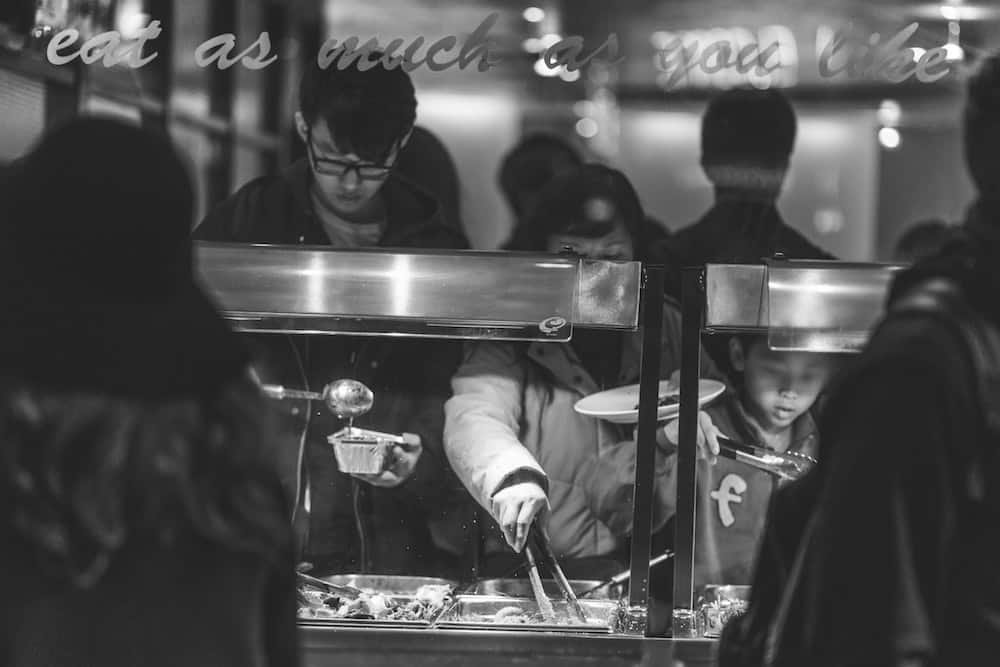 23 Jul

10 Delicious Buffets in Tulsa (Recommended by Locals)

A lesser-known section of Tulsa's restaurant scene is the buffets. Everyone knows about Chinese buffets, but did you know that Tulsa has buffets for barbecue, Greek, and Thai food too?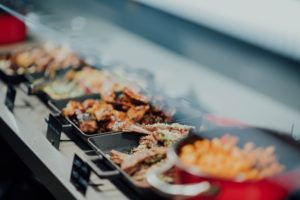 Here are ten Tulsa buffets in no particular order that will satisfy your all-you-can-eat cravings. Without further ado, let's eat!
1. Yutaka Grill & Sushi Buffet – ★★★★☆
Located in the Farm Shopping Center in Tulsa is a new take on a classic buffet called Yutaka. The modern fusion of classic Chinese cuisine and Japanese sushi in an all you can eat buffet.
The food at Yutaka is very fresh and the cooks are on top of it, bringing new batches of meat, veggies, and noodles right when the batch before gets depleted. The sushi is made fresh throughout the day in the same way. The variety is phenomenal with up to 20 different types of rolls at any time.
Recommended: Firecracker sushi roll and General Tso's chicken. The spicy combo of the firecracker roll and General Tso's chicken is mouth-watering and full of deep flavor.
2. Cumin Flavor of India – ★★★★☆
This lunch buffet is definitely the flavor of India. The food is very authentic and seasoned with all the spices from Indian cuisine. The selection is great and the variety doesn't take away from the quality of each dish.
Everything is made fresh and tastes amazing with quality rice and fresh-baked naan bread. With so many things on the buffet line, it can be overwhelming to attempt to try it all in one go. This might take two or three attempts to accomplish.
Recommended: Chicken Tikka Masala and Garlic Naan Bread. Tikka masala is a classic Indian dish and Cumin does it perfectly with full flavors and tender chicken. Dip some garlic Naan bread in the sauce to create a stellar flavor combination.
3. India Palace – ★★★★★
Next on the list is another Indian restaurant with a lunch buffet. India Palace is Tulsa's oldest Indian restaurant, serving delectable Indian food since 1974. The buffet offers classic Indian food with great flavor and fresh quality that will satisfy any and all cravings for that oriental-fusion flavor.
They have similar dish offerings to Cumin, but with some different chicken and pork variety. As with the last option, it may take two or three attempts to try everything on the buffet line, but you will not be disappointed by any of it.
Recommended: Chicken Tikka kebabs and Tandoori Roti. The chicken is unlike any other chicken I have ever eaten. The marinade is creamy and flavorful, allowing the chicken to become tender and seasoned to perfection.
Pair it with some Tandoori Roti, which is the whole wheat version of Naan and you've got yourself a masterpiece of Indian cuisine.
4. Burn Co – ★★★★★
Deep in the heart of downtown Tulsa sits a very busy restaurant called Burn Co. The bustle of people packed in the lobby just waiting to be seated proves the tasty, high-quality barbecued meat that Burn Co delivers.
The buffet aspect is quite new to Burn Co, as the owner just rolled out Sunday Brunch Buffet at Cain's Ballroom in 2018. But the proof is in the brisket, as one might say.
The Burn Co standard of quality is sustained even in the buffet line, with several different cuts of beef, chicken, sausage, and pork all smoked for 24 hours or more to create the best barbecue in Tulsa.
Recommended: Sliced Brisket, Chicken Breast, Smoked Sausage, any other meat on the buffet line. Burn Co is known for its smoked meat. Try any meat they offer on their buffet line and you will not be disappointed. Pair it with one of their signature barbecue sauces for maximum flavor.
5. JK's Thai Buffet – ★★★★☆
Off the beaten path in north Broken Arrow, you'll find a small restaurant by the name of JK's Thai Buffet. It's a small, cozy place with a short buffet line, but their food is some of the best in the area.
Each item on the buffet is made with quality ingredients from local grocery stores. Everything they serve has rich, authentic flavor and is made in small batches, so it doesn't feel like a buffet, but more like a family dinner.
Even though they only have a few items on the buffet line, all the items are of the highest quality.
Recommended: Pepper Garlic Chicken and Pad Thai. The pepper garlic chicken is full of wonderful flavor. The seasoning is perfectly subtle and creamy and mixes perfectly with the Pad Thai noodles.
Bonus: They have sticky rice balls for dessert that are quite delectable. They aren't too rich, just the perfect amount of sweet with the nutty flavor from coconut.
6. Leena's Mediterranean Grill – ★★★★★
If you are a fan of Mediterranean food or are looking for something on the lighter, healthier side, Leena's Mediterranean Grill is perfect for you. They have an all you can eat lunch buffet with almost their entire menu available in some form or another.
You will find lamb, chicken, eggplant, pre-made gyros, hummus, and so much more on the buffet line. Everything is made fresh throughout the day and the taste leaves nothing to be desired. You may need multiple visits to try everything or just get one bite of everything until you fill up.
Recommended: Kafta and roasted eggplant. Kafta is a Lebanese beef kabab that tastes so flavorful. It has a smoked beef sausage kind of flavor without the casing. Drizzle it in the cucumber white sauce and pair it with roasted eggplant and you have yourself a perfect dish straight out of the eastern Mediterranean.
7. Hard Rock Casino – ★★★★★
If you want to get out of the big city for a night on the town, the Hard Rock Casino may be the place for you. Situated right off highway 51 in Catoosa, the Hard Rock Casino and Resort is the perfect getaway for a night or weekend.
They have an all-you-can-eat buffet open every night for dinner that doles out just about every kind of food you can imagine. From smoked brisket cut right in front of you to wok-fired shrimp and chicken, there's no way you won't find something here that satisfies your cravings.
Every week from Monday through Thursday, the Hard Rock has specials in their buffet. Tuesday's special, "Double Vision," is a 2 for 1 special, so take your significant other with you. If you get lucky, you might catch some live music from a local band while you're there.
Recommended: The Chopping Block. They offer a barbecue and smoked meat section with some delicious and juicy meats cut right in front of you. The brisket and glazed pork are so tender they almost melt in your mouth as you chew.
8. Ollie's Station – ★★★★★
Off historic Route 66 in West Tulsa is a diner-style restaurant called Ollie's Station. The mom and pop feel of Ollie's contrasts perfectly with the cafeteria setting that the breakfast and lunch buffets lend to.
Everything on the buffet line seems like it was made by your mom or grandma in her kitchen. If you are needing some good comfort food for your soul, look no further. They serve all the staples, such as fried chicken, mashed potatoes, homemade soups, and mac and cheese.
Recommended: Chicken Fried Steak and mashed potatoes with gravy. How could you miss this scratch-made, home-cookin' classic? The gravy poured over the top just makes the meat and breading pop.
9. HuHot – ★★★★☆
HuHot is a Mongolian grill found near the intersection of Memorial and 71st across the street from the Woodland Hills Mall. Even though HuHot is a chain restaurant, Tulsa is home to the only HuHot in the state of Oklahoma. The atmosphere of HuHot is very pleasant with a large, open-concept seating area.
HuHot has recipes for their best bowls to help you pick the ingredients from the overwhelming amount of options. The real show is the cooks at the hibachi flat grill. They cook your bowl of food while doing spatula acrobatics to keep you entertained as you wait for your food.
Recommended: Bring Your Village. The Bring Your Village recipe is a good sampling of all the favorites from the line, with beef, chicken, and pork coupled with five vegetables and two types of noodles. Beware! It's on the spicier side so be sure to have your drink ready.
10. Ken's Pizza – ★★★★★
You can't have a list of buffets without adding a pizza buffet and one of Oklahoma's best-kept secrets is Ken's Pizza. Located on the north side of Sapulpa, Ken's is the furthest restaurant from Tulsa on this list. That won't matter to you once you've visited, though.
The all-you-can-eat salad, pasta, and pizza with a drink only costs $10. You get some high-quality fresh-made Kansas City-style pizza. The crust is thin and crispy while the cheese is thick and gooey, covering a mountain of toppings.
Having a small-town feel with friendly service help to make Ken's a favorite for anyone in the West Tulsa area.
Recommended: Meat Lovers Pizza and Creamy Alfredo. With four different types of meat piled high on a crispy crust, who wouldn't be in pizza heaven eating a meat lover's pizza? The creamy alfredo complements any pizza perfectly and tastes like a little bowl of Italy.
Tulsa has so many food options that it can be overwhelming when trying to pick somewhere good to eat. This list can help narrow your search results and give options the whole family will enjoy.
Have fun and happy eating!