Tulsa is home to many great construction companies and contractors. They serve a variety of different areas and types of projects. With there being such a saturated market for construction and roofing, it can be overwhelming trying to find the best roofers in Tulsa.
We have taken the time to do our own research to find the Ten Best Roofers in Tulsa to make it a little easier to choose the right roofing company for you and your needs.
Top Ten Roofers in Tulsa
Here are our recommendations for the ten best roofers in Tulsa.
On the Rock Roofing & Construction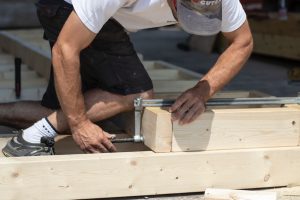 On the Rock Roofing is a roofing and construction company in Broken Arrow that works with homeowners and business owners in Broken Arrow, Tulsa, and the surrounding areas with quality roofs and building projects. Their customers are always happy with the work they do.
Jeremy Mueters and his team are highly sought after for their great work on homes, businesses, schools, and many more types of buildings. According to a few of their Google reviews, they have gotten families and business owners out of some tight situations after a storm came in and damaged their roof. No more leaks because the pros came in and cleaned house.
On the Rock Roofing is the Best Roofer in Tulsa and it shows in the countless jobs they've done. They stand by the phrase, "right the first time." Each time they finish a job, they leave a happy client and a perfect roof. They always get to know the specific needs of their clients and the building they are working on in order to deliver the best roofing service they can.
Roofs- R- Us
Jonah has been a contractor for 20 years, and he's helped hundreds of people through the insurance claim process. He takes pride in knowing that his customers are satisfied with their new roofs–especially when they didn't have to spend too much money! Jonah is an expert at finding ways to provide superior customer service. He is passionate about ensuring each client gets a quality roof. His team works with insurance companies to keep costs down for each client.
Roofs- R- Us values honesty, hard work, and quality. Every roof is installed with care and attention to detail. They are dedicated to keeping your family safe and dry through several years of wind and storms.
Ark Roofing & Construction
The professionals at Ark Roofing & Construction understand that roofing problems can cause stress and frustration. Because of this, they seek to provide seamless and stress-free services that instill confidence in each homeowner. Ark Roofing & Construction believes that you should have access to high-quality roofing materials at an affordable cost. This is just one of the many ways that they continue to set themselves apart from others in the industry. Whether you need small roofing repairs or require a new roof, Ark Roofing & Construction is ready to serve you. 
T-Town Roofing
T-Town Roofing is another roofing company in Tulsa that services clients and their homes and businesses. Their accomplished team of roofers works with excellence on every project.
If your roof needs repaired or replaced, they can take care of your roofing needs. You can rest assured that you'll receive the service you need to preserve your roof from weather and aging. Their team understands the needs of their clients and caters to their individual situations.
T-Town's team understands that each home or business is different and in need of specific things. They are able to find out what those needs are and deliver on them without delay, in an efficient manner.
Above It All Roofing & Construction
Next on the list is a Tulsa-based roofing and construction company called Above It All Roofing and Construction. They work tirelessly to give their clients the best roof for their needs.
Their team of excellent roofers is able to repair, replace, and install just about every kind of roof, from shingle to metal, and residential to commercial. They have installed roofs for churches, apartment complexes, homes, warehouses, and restaurants.
Above It All is a good company to have on your side and they work with you to get your roof in tip-top shape. Their team is ready to take on your next roofing project.
A-Best Roofing
A-Best Roofing comes in sixth on our list with great service and certifications, making them one of the best roofers in Tulsa. Their team of meticulous roofers has installed a variety of roofs on an array of different building types.
Every job they take on is carried out to the letter and their customers are very happy with their services. A-Best is able to repair and replace your damaged roof with ease while keeping your cost fair. Their team is Owens Corning Platinum Preferred as well as other certifications and accommodations from industry professionals.
With these certifications and accommodations, they have roofed countless residential and commercial buildings. A-Best is more than qualified to install your roof today.
Robert Moore Construction
With over 20 years of experience, Robert Moore leads his team of roofing experts with excellence. They strive to provide each customer with the highest quality workmanship, products, and results. Robert Moore Construction specializes in roof replacements and repairs, hail damage, guttering, vinyl siding, and much more. They will help you ensure that your home is both beautiful and sturdy to withstand the many storms we experience in Tulsa.
Home Again Roofing & Construction
Home Again Roofing and Construction are a Tulsa roofing company that has served clients in the Tulsa areas for many years. In recent years, they have expanded their reach to Kansas and Arkansas as well. While this is a lot of ground to cover, they cover it well.
The team at Home Again is a great fit for all your residential and commercial roofing needs. They offer roof repairs and leak repairs as well, making them a full-service roofing company.
The Home Again team takes every job seriously and handles each customer and their needs with care and professionalism. They would love to take your home to the next level with a quality roof today.
Arrowhead Roofing
Coming in at eighth on our list is Arrowhead Roofing. They are a roofing company in Tulsa with thirty years of quality workmanship and experience. Their team services commercial and residential buildings with a variety of roof types.
Having experienced team members, Arrowhead Roofing is fully capable of meeting your roofing needs. They also offer roof repair and replacement if your roof is in need of an update. If a storm blows through and takes parts of your roof with it, they are able to help you fast with emergency roof repairs.
Arrowhead Roofing is a team of honest, accomplished roofers who can help you with all your roofing needs.
Perfection Roofing Inc
Perfection Roofing Inc. is another good roofing company in Tulsa that specializes in roof repair and replacement. With forty years of experience, Perfection is able to tackle all types of roofing projects with efficiency.
Their reliable team is capable and willing to take jobs in the commercial and residential areas. Their team is Owen Corning Platinum Certified as well, giving them some qualifications and status among other roofing companies.
The team of roofers at Perfection consists of a collective 70 years of roofing experience and their work speaks for itself. Perfection Roofing is a capable roofing company for any of your roofing needs.
Relentless Roofing
As a veteran-owned and operated company, Relentless Roofing is passionate about providing exceptional customer service. Their crews are highly-trained and experienced in a variety of roofing services including roof repairs, roof replacement, and guttering for homes in and around the Tulsa area. Additionally, they are well-versed in the insurance claim process, always willing to help you navigate this often complex situation. Whatever your roofing needs, Relentless Roofing will provide you with services that exceed your expectations.
In Conclusion
Tulsa is ripe with roofing companies and it can be difficult to find a good, reputable company to take care of your roofing needs. Any of the roofers on this list will give you great service and meet all your roofing cement needs. They can take care of your home or business and make sure your building is covered and devoid of leaks.
If your roof is damaged from storms or creatures, call one of the 10 best roofers in Tulsa to get your roof repaired or replaced and make sure your home or business is protected. Contact them today to get a quote or estimate on your roof installation or repair and find out what they can do for you today.
Thank you for reading. For more information about Tulsa, click here.