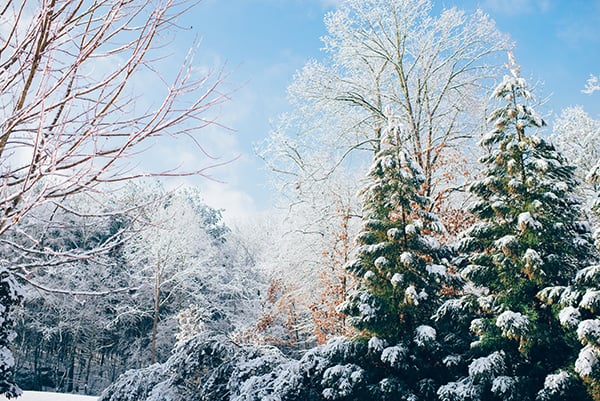 16 Dec

Tulsa Events Happening in December 2021
December 2021 Events in Tulsa
Tulsa is ready for the holiday season to begin. Are you looking for something to do in Tulsa this December? Luckily many events are happening this holiday season. From meeting Santa to light shows to brewery tours, we have suggestions for whatever your friends and family may be looking for.
There is always something to do in Tulsa, and December is no exception! Here are just a few of the events happening in December:
Tulsa Botanic Garden Of Lights
Tulsa's favorite botanical garden once again hosts its annual holiday light show! Get some quality time with friends and family as you hang out in the illuminated garden. You can expect s'mores, hot chocolate, wine, and other spiked options for you and your friends to enjoy over the fire.
If that does not curve your craving, there will be a food truck on-site to purchase food as well. There will also be plenty of entertainment options from holiday music, hay maze, snowball pit, and more, making this the perfect hangout to bring the kids while you catch up with some friends and family.
Be sure to bring a blanket so you can sit down and get comfortable, as there are plenty of opportunities to do so. This is a timed-entry event for each hour from 5 p.m. to 8 p.m. Limited number of tickets go on sale for each night which can be purchased on the website.
Grab your blankets and prepare to have a fun night enjoying the magical Tulsa Botanic Garden of Lights.
Arvest Winterfest
Returning for the 14th year, the Arvest Winterfest is an excellent opportunity to get into the holiday spirit. This family-friendly event has something for everyone. You can enjoy ice skating beneath the skyline, Christmas music, carriage rides, and more! The best part is the event is free.
If you want to enjoy ice skating with your friends, you can purchase tickets at the event. This is the perfect holiday event to enjoy quality time with friends and family. This event will be open through January 3rd, giving you plenty of time to plan a night downtown to enjoy this holiday celebration.
Gathering Place Canned Food Drive
FC Tulsa and the Gathering Place have teamed up this year to host a canned food drive to help those in the community in need. Through December 26th, you can bring your canned food items to Williams Lodge at the Gathering Place or the FC Tulsa offices. All donations will go to South Tulsa Community House, an organization that asset residents throughout Tulsa.
Once you donate, you will also receive a 10% off any purchase at the Team Shop! Clean out your cabinets and donate your canned food to support those in the community this holiday season.
The Nutcracker
No holiday season is complete without watching a classic! The Nutcracker returns to the Tulsa PAC for a limited-time engagement through December 19th.
It shows the battle between the Mouse King's rodent minions and the Nutcracker Prince's army of toy soldiers and more. With brand new choreography by Val Caniparoli and Ma Cong and Tulsa Ballet's past resident choreographers, come check out the all-new production of The Nutcracker.
Tickets are extremely limited, so be sure to grab your tickets as soon as possible if you want to watch this timeless classic live at the Tulsa PAC.
Dog Play Sunday & Pet Photos With Santa
In light of the holiday season, the Gathering Place will be letting dogs enjoy the park every Sunday throughout December. Typically, only Wednesdays allow this activity, but they have decided to extend it to Sunday as well for the dogs to enjoy some fun.
Additionally, on December 19th, the park is offering free photos with Santa Claus and your pup. Grab your dog for some Sunday fun and get some pictures for your Christmas cards.
Turkey Tuesday
Do you like to run and hike? Come and join a group of fellow runners every Tuesday throughout December at Turkey Mountain. There is no need to worry about keeping up as everyone will be split into different groups that vary by pace. Dogs are always welcome and feel free to bring a cooler to share beverages with your fellow runners after.
If you want to participate, go to the lower paved lot at Turkey Mountain. All groups depart by 6:30 p.m. and return within the hour.
Cabin Boys Brewery Tour
Do you want a day out with your friends? Cabin Boys is a great place to sit back and enjoy some good beer for the day. Join a chance to sit back and enjoy some beer with your friends. Cabin Boys Brewery has tours every Friday at 3 p.m. These tours include a bear of your choosing, a tour of the production space, and a souvenir glass!
Reservations are not required, so get your friends together and enjoy some quality time and good beer.
Orlando Solar Bears Vs. Tulsa Oilers Hockey Game
Take some friends and head to the BOK Center to check out a live hockey game between Orlando Solar Bears vs. Tulsa Oilers. Watch as they hit the ice and fight for another win at home. The best part is they have plenty of concessions available during play with a wide range of food and drink options for fans!
Come cheer on the Oilers and enjoy some quality time with friends and family. The game is on December 19th, and tickets are available now.
Christmas at Philbrook
Philbrook Museum of Art is always a great place to visit, but it becomes even more magical during the holiday season. From November 26th until December 24th, come see the decorated Philbrook gardens.
There will be hot cocoa, Christmas light shows, visits with Santa, art projects, and more. Enjoy the thousands of lights that illuminate the garden as you catch up with some friends and family. Tickets can be purchased on their website.
Woolaroc Wonderland of Lights
Take a drive out to Woolaroc Ranch, Museum and Wildlife Preserve to experience their Wonderland of Lights this holiday season. The grounds will be covered with 750,000 lights and light the grounds every weekend from 5-9 p.m. through December 19th. There will be wagon rides, warm cookies, and hot cocoa for you to enjoy as you see Woolaroc lit up throughout the night.
Admission is $6 for adults and $1 for children 12 or under. Come explore the lights, holiday displays, and all the beauty of Woolaroc.
Winter Wonderland At The Gathering Place
Visit the Gathering Place during their Winter Wonderland for some family fun. They will have thousands of twinkling lights as they spread the holiday cheer through live music, holiday gifts by local vendors, and an elf dance party.
There is no need to worry about arriving on an empty stomach as they will have festive food and holiday drinks available for purchase. Santa and Mrs. Claus will also be nearby at the ONEOK Boathouse for the kids (or you) to meet.
Tis the SEAson At The Oklahoma Aquarium
Take a trip out to the Oklahoma Aquarium for their Tis the SEAson celebration. Join Santa for some quality art time with a gingerbread house and cookie decorating party.
This will be on December 18th from 1- 4 p.m. Santa will be arriving shortly after it begins at 2 p.m. and will be leaving at 4 p.m. Be sure to grab a picture with him before he leaves. Admission is free to members, and tickets can be reserved on their website.
Rhema Lights
Rhema Bible Church is hosting its annual lights show now through New Year's Day. Grab your friends and family to enjoy the spectacular light show at the Rhema Bible Church campus.
This event first began in 1982 with 60,000 lights and has now grown exponentially with more than 2 million lights throughout the campus. Admission is free, and the lights will be on from 5:30 p.m. to 11:30 p.m.
A Christmas Carol
Join us for another classic at the Tulsa PAC from December 10th- 23rd. A Christmas Carol will be playing in the John. H. Williams Theatre.
A heartwarmer for the holidays, this production has been entertaining audiences for more than 40 years. This is a beautiful show for everyone in your family, so you do not want to miss out on it. Get your tickets today!
Utica's Santa House
Kick off your holiday season at Utica Square's Santa House! There will be music to enjoy as you have the opportunity to meet Santa from 1 p.m. to 7 p.m.
Do not forget to take a picture and let him know what you want for Christmas. If you come during the evening, you can enjoy the Utica Square lights as they illuminate throughout the whole place. Bring the family by to meet Santa now through December 24th.
Now you have some suggestions to spend with your friends and family during this holiday season! These are only a few of the events happening in Tulsa this December. Be sure to check out Facebook and local websites for more events and to find one that best suits your needs. Have a happy and safe holiday season!