08 Oct

New Year's Eve Events Happening In Tulsa 2021
Events Happening in Tulsa on New Years Eve 2021
Tulsa has several events happening this New Years' Eve to help ring in 2022. This year has gone by fast with plenty of ups and downs. New Year's Eve is a great time to reflect and plan. It is also a great time to have fun and relax. It is important to celebrate making it through another year! Tulsa has plenty of events that help you do just that! Here are 13 events that happen on  New Year's Eve in Tulsa, that are known to rock the house.
1. Countdown at ONEOK Field
This event is sponsored by the Greater Regional Partnership and usually takes place between 7 P.M. and midnight at ONEOK Field. The New Year's Eve party includes a food truck rally, live music, an outdoor hockey game playing on the big screen, plus fireworks after the clock strikes twelve! This event is a fun and family-friendly way to ring in the new year! The food and entertainment are always a bonus!
2. Glimmer Gala at the Mabee-Gerrer Museum of Art
Enjoy food, drinks, dancing, and more at this New Year's Eve party! This event is usually themed to make the night even that much more special. The art feeling, mixed with the cool vibes makes this event a night to remember. This party is for those who are feeling a little more extravagant. The event takes place from 7 P.M.-1 A.M. Tickets cost $125 per person so be prepared to throw down a little money. However, after a hard year, I think it will be totally worth it!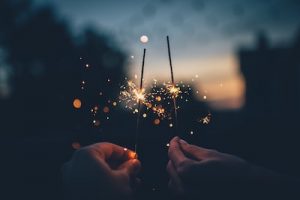 3. Exciting New Year's Eve at Guthrie Green
For every holiday, Guthrie Green seems to have a special event. New Year's Eve is no exception! During New Year's Eve festivities they have so many activities for all ages. There will be dancing, live entertainment, and food. In addition, for those over 21, there will be alcohol available so you can ring in the new year right! Learn more about New Year's Eve at Guthrie Green here.
4. New Year's Eve at the Brady District Pub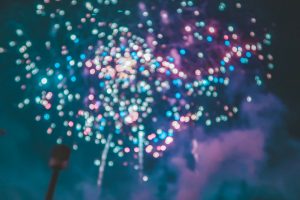 Every year the Brady District Pub event serves us something a little different. The New Years' party starts at 8 P.M.-12 A.M. They always have the best live music available! It is definitely a night you don't want to miss! They also have great food and drinks which is a major plus. There is usually a contest for best dressed and several prizes!
5. The Fur Shop's New Year's Eve Extravaganza
This is event is a little more secretive and less known. The Brady District, in addition to the pub party, has this extravaganza. This is a private party and you must be 21 years and up. There is a price of admission as well. Many times, the more intimate a party is, it can be more quality time. This event allows you to really enjoy yourself without overcrowding.
6. New Year's Eve at Hardesty Park
Many New Year's Eve events are more for adults. But what about those with families? There are several holiday events in Tulsa that cater to families and don't skip out on the fun! The celebration at Hardesty Park is one of those events, and it never disappoints. This free family-friendly event includes a balloon drop, a DJ, food trucks, and an ice skating rink. This event will take place from 7 P.M.-12 A.M. at Hardesty Park in midtown Tulsa. So bring your family out to this event!
7. All My Exes Live In Texas New Year's Eve Party
Nothing is more exciting to a Tulsan than a good western-themed party! Nothing beats that country vibe that country music and dancing bring. So, ring in the New Year at this country-western-themed party! This event is open to 21 and up only and includes two bands, a champagne toast, party favors, food trucks, and more. The party starts at 8 P.M. Tickets are $10-$50 per person.
8. New Year's Eve Outdoor Celebration at Tulsa Union Depot
This family-friendly event welcomes everyone with a balloon drop, ice skating rink, live music, a Pepsi food truck, and more. This event will take place from 7 P.M.-12 A.M. at the Tulsa Union Depot in downtown Tulsa. This event is kind of like a downscaled version of Times Square.
Nothing beats watching the ball drop together with loved ones. Plus, you can't be the cuisine of a food truck. This event is one of Tulsa's top attractions on New Year's Eve.
9. New Year's Eve with the 80s Band
Something about ringing in the New Year can make people feel nostalgic. This is why this 80's themed party is perfect if you feeling good through back to end this year! Spend your last hours of 2021 dancing to all of your favorite 80's hits! This event is open to those 21 and up only and includes a buffet dinner, champagne toast at midnight, party favors, and music. The party starts at 9 P.M. Tickets are $45 per person.
10. New Year's Eve Dinner Cruise on the River Spirit
Celebrate New Year's Eve on a cruise and enjoy an all-inclusive five-course meal, live music, and dancing to toast the New Year! This event is open to those 21 and up only. The boat leaves at 8 P.M., 9:30 P.M., 11 P.M., and midnight from the River Spirit docks. Tickets are $129 per person.
This would definitely be a night to remember. You can't beat the scenery and ambiance of a cruise. River Spirit always knows how to put on a great event. Learn more about the New Year's Eve Dinner Cruise here.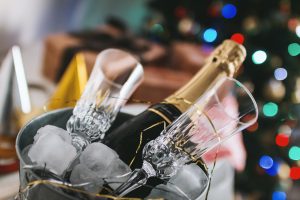 Party Party!
Whether you are a family of 5, or a party of 1, there is something fun for you to do in Tulsa to ring in the New Year! Stay connected on everyone's website and Facebook page to stay up to date on event times, protocols, and prices as details may change due to COVID or other factors.