The property
Southern Safe Rooms
Keeping your family safe is as easy as 1-2-3
Who is Southern Safe Rooms
Southern Safe Rooms was created to fulfill a desperate need for quality, well-built, safe rooms in Oklahoma. The President of Southern Safe Rooms, Michael Tidwell, is a life-long Tulsan and a 3rd generation metal fabrication business man. He has seen, first-hand, the destruction that tornadoes can cause after the EF5 tornado that ripped its way through 
Northeast Oklahoma
 and Joplin, Missouri.  Mr. Tidwell was inspired to begin making Tulsa storm shelters to protect people from these horrific storms. Southern Safe Rooms are fabricated in downtown Tulsa, Oklahoma, by 
Southern Sheet Metal Works, Inc.
, the parent company. Southern Sheet Metal Works, Inc. was established in 1904 and is currently in its fourth generation of family ownership. Having 110+ years within metal fabrication, along with employing only the best metal fabricators, equates to An Industry Standard for Tulsa safe rooms and Tulsa storm shelters.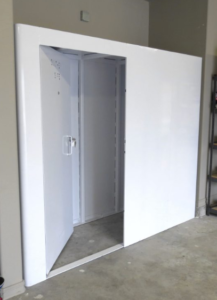 Southern Safe Room Designs
  Southern Safe Rooms have no corner welds that can break, therefore the overall strength of the structure stays in-tact. The strength of our shelter is in the internal frame the safe room is built around. Southern Safe Rooms have no nuts and bolts to tighten or that could break. Bolt together safe rooms are dependent on every nut and bolt being tightened all the way and holding under extreme pressure. All it takes is for one bolt to break and the entire safe room is compromised. A safe room that has its corners welded together is dependent on those welds holding in order to keep its strength in-tact. If one of those welds breaks during a storm, the whole strength and integrity of the Safe Room is compromised by that broken weld.
For more information on your Tula Safe Room, contact Southern Safe Rooms
here
.