The property
EduMarking USA
A playground is full of limitless potential, where countless memories are made every day.
At
EduMarking USA
, we also see the limitless potential of playgrounds, and because of our belief that there is always a better way of doing things, we look at playgrounds as more than just games or courts on your blacktop. Instead, we look at playgrounds as a way to create more confident kids through play and interaction. As a result, we have created the only interactive and durable playground surface that lasts and creates engaging learning opportunities for children and their teachers.
EduMarking USA Ideal Locations
EduMarking USA's unique, bright, colorful, and durable
playground designs
are ideal for:
School Playgrounds
Church Playgrounds
Daycare Playgrounds
Park Playgrounds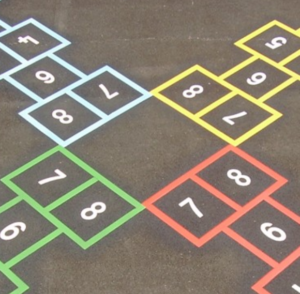 EduMarking USA playground learning experiences use specifically designed to create higher performing kids through:
Inspiring educational fun by taking the classroom outside with maps and number tables so kids can learn while at play.
Advocating physical fitness with courts for tennis, basketball, net ball and more.
Driving creativity with EduMarking USA designs that inspire kids to make up their own games and rules.
Teaching teamwork by allowing kids to learn and collaborate with one another.
Developing social skills on the playground with interactions between kids that help them learn valuable interpersonal skills they'll need throughout life
These skills are all part of building up and inspiring children. Through interactive play, they become stronger, healthier, and well-rounded students.
EduMarking USA a Learning Destination
EduMarking USA designs help make your playground a learning destination, so students remain engaged in learning outside the classroom. Their designs and playground surfaces can help you stand out and attract families while providing a safe and interactive environment for students. For more information on the go to playground game markers, contact EduMarking USA
here
.