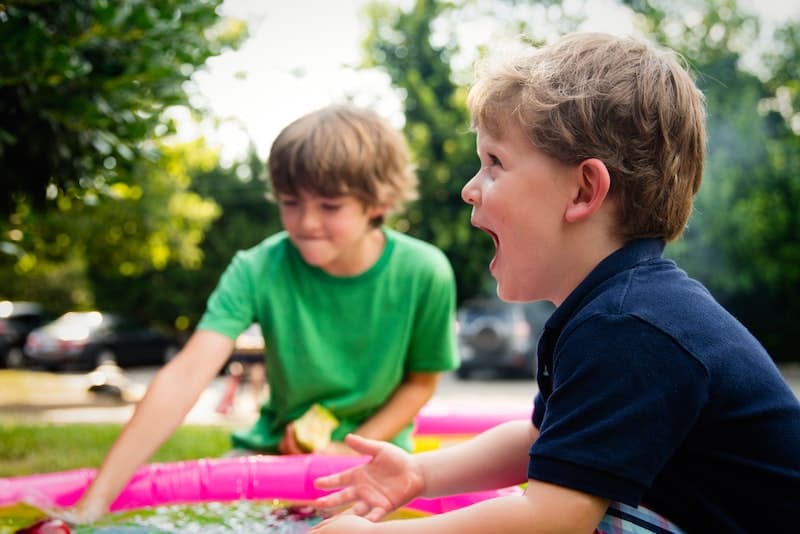 28 Jun

Best Kids Summer Camps In Tulsa, OK | Updated for 2020

Summertime was made for fun! As much as we love spending time with our kids, we all benefit from a little break. Summer camps are the perfect way to add some excitement to your child's summer while giving you a few hours to yourself.

As your resource for Tulsa tips & info, we decided to compile a list of the best kids summer camps in Tulsa! With so many great options, you are sure to find a summer camp that your child will thoroughly enjoy. 
Tulsa Kids Summer Camps for 2020
At the time of this article, the summer camps on this list are hosting summer camps with open registration! Learn more about each summer camp, or register your child, by visiting their website.
New Heights Summer Camp
New Heights Summer Camp is hosted by the Broken Arrow Church of Christ and Rhoades Elementary School. Since 2009, their goal has been to provide an affordable space for children to have fun and practice the academic skills they have learned throughout the school year. 
This summer camp is open to kids in grades Kindergarten through 5th grade. Breakfast and lunch are available to children who attend this summer camp!
BounceU
Are you trying to find a way for your child to expend some of their never-ending energy? BounceU provides a unique summer camp experience with plenty of bouncing. Kids ages 4 and up are welcome to participate in this fun day camp! 
Some of the activities include structured game time, crafts and activities, Lego building, snacks, and of course lots of bouncing. Summer camp at BounceU runs Monday-Friday from 9am-2pm, now through August 15th. They do have aftercare available for an additional cost for families who need childcare during the afternoon hours.
Camp Patriot | Metro Christian Academy
Camp Patriot, held at Metro Christian Academy, offers both half-day and full-day summer camp options for your children. Each with a different age group in mind, Camp Patriot is offering over 100 theme-based camps this summer.
Some of the themed summer camps that Camp Patriot is offering this summer include All American Girls, Advanced Film-Making, Balloon Twisters, Christmas in July, Cooking Around the Globe, Lego Robotics, Musical Theatre, Podcasting 101, Space Camp and more. Camp Patriot also offers several athletic camps. 
Children ages PreK-12th grade are welcome to attend this incredible summer camp experience! 
Miss Helen's Private School
Miss Helen's Private School provides an educational and exciting summer camp experience for children ages 3 years to 5th grade. With several attendance options including select days during the week or full time, this is a great opportunity for families who require a more long-term solution to summertime childcare.
During summer camp at Miss Helen's, students continue to learn academic skills such as math and reading, but they certainly don't miss out on the fun! Your child can participate in gymnastics, soccer, tennis, golf, karate, drawing, and more. 
Camp Loughridge
With summer camp for kids ages 6-14, Camp Loughridge provides a fun summertime experience for your school-aged children. Summer campers at Camp Loughridge have the opportunity to participate in exciting outdoor activities including archery, canoeing, ropes courses, arts and crafts, nature hikes, swimming, and more. 
Camp Loughridge is committed to providing an inclusive environment, providing special summertime programming for children with Autism. The counselors at Camp Loughridge keep your children busy enjoying the fresh air from 9am-5pm. Because they believe that every child deserves to have a chance to attend, Camp Loughridge offers camp scholarships to assist families to offset the cost of summer camp.
New Arts Camp | Living Arts of Tulsa
New Arts Camp is a summer camp experience for children who have a creative bent. With camps for ages 5-18, your child can participate in a camp geared towards a specific genre of contemporary art. 
There is limited space available for in-person camp. However, New Arts Camp has also decided to offer Virtual Summer Camps to provide your child with the same summer camp experience in the comfort of their own home. Virtual summer campers will participate in the same activities and display their creations along with the other campers during the First Friday Art Crawl. 
Motion Tulsa
Summer camp at Motion Tulsa is centered on the theme of movement. The staff at Motion Tulsa strive to make your child's summer experience one that they will not forget. During camp, your child will participate in structured activities, arts and crafts, pool visits, and more. 
Motion Tulsa believes in making the most of your child's summer. They do not rely on screen time to occupy your child's time, focusing instead on activities that encourage your child to grow intellectually and emotionally. 
SSB Kids!
SSB Kids! offers summer camp for children ages 3-12. During camp, they provide activities such as tumbling, water slides, swim time, arts and crafts, character building, math practice, music, and more. 
Summer camp at SSB Kids! is held Monday-Friday from 9am-3pm, now through August 7th. Each week of camp has a unique theme! Summer camp themes for 2020 include Lego Build It, Discover Fine Arts Fun, and Explore Science & Space.  
High Hopes Summer Camp | SkyWay Leadership Institute
A fun summer camp experience for children 10-14, High Hopes Summer Camp focuses on themes of confidence, leadership, personal growth and development. Your child will be able to participate in team-building games, zip lines, ropes courses, and other exciting activities! 
This summer, High Hopes Summer Camp is offering a discounted rate to first responders including Police, Fire, EMSA, and Medical Professionals.
Reel Talent Studio
Reel Talent Studio offers several summer camp opportunities for children in grades 1-12. With camps including Dance Intensives, Improv Camp, and Film Camp, your child will be able to hone their creative skills under the direction of accomplished professionals.
Summer camps at Reel Talent Studio range from half-day programs to full-day programs, depending on the focus of the program.
YMCA of Greater Tulsa
Although the YMCA of Greater Tulsa is not offering an overnight program in 2020, they are still holding their popular summer camp experiences! The YMCA offers summer camp throughout the summer from 7am-6pm, depending on your childcare needs.
The staff at the YMCA of Greater Tulsa strives to provide your children with new experiences and opportunities for growth through a variety of indoor and outdoor activities. YMCA summer camps are held throughout the city of Tulsa now through August 16th. 
The Goode Academy of Irish Dance
A truly unique summer camp experience, The Goode Academy of Irish Dance is a half-day camp experience for children ages 5-17. During their week at camp, your child will experience Irish dancing, Irish arts and crafts, exposure to the Irish language and culture, and lots of fun and games. 
Great Outdoors Summer Camp | Ray Harral Nature Center
Does your child love the outdoors? Ray Harral Nature Center is once again hosting the Great Outdoors Summer Camp for children ages 7-12. During their time at camp, your child will participate in hikes, scavenger hunts, wildlife presentations, games, and much more. 
Theatre Tulsa Academy
Looking for a way to entertain your children from the comfort of your own home? Theatre Tulsa Academy is providing a virtual summer camp experience for children ages 5-18. Each camp caters specifically to your child's age group with activities like music, dance, and theatre training.
Even though this summer may look a bit different than summers past, the various Tulsa summer camps are dedicated to ensuring that your child has a summer full of fun. Looking for a fun family date night? Check out our list of Tulsa restaurants where kids eat free! 
 Learn more about upcoming Tulsa events here!